Tangible audio/video
remix station
custom coding & audio, fabrication, interactive projected interface, feducial programming
The Makerfest platform was launched by Absolut as part of its global "Transform Today" campaign, seeking a return to its roots in the artist community.  Thousands of makers – craftspeople, solderers and robot builders – came together at Absolut's Makerfest in Toronto to engage and share ideas. As a part of the maker community, Derooted was approached to create an inspiring and unique brand experience.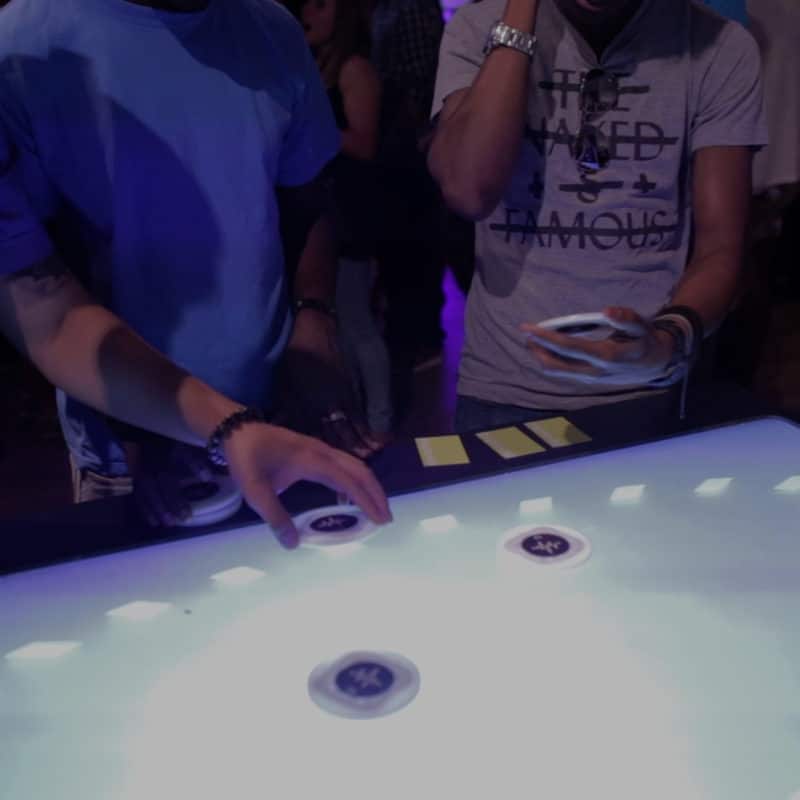 We designed and built a futuristic, tech-inspired installation that sprung guests into creative inspiration. Built as an audio and visual interactive glass table, our creation allowed anyone to DJ and broadcast tunes to an audience. The station would match beats and filter sounds, while listeners wearing wireless headphones moved to the music. The beats were then emailed to its maker for social shares.
Absolut Vodka, as an early adaptor to the movement approached us with a clear objectives; To inspire targeted consumers on mass through the unique, futuristic, tech inspired installation that is within the emerging Maker community.
the understanding that makers will not respond well to an ad campaign, a tangible audio & visual interface was designed and developed by derooted for Absolut Vodka for their event that lets users interact by placing and moving custom marked discs on the interactive glass table.
The user can essentially beat match, filter sounds as well as control volume in the mix while queing the sounds via wireless headphones. The mix can then be sent via email to the user to be shared online or turned into a ringtone.
Follow the Absolut MakerFest movement on Twitter with @AbsolutCanada, using the #TransformToday and #Absolut hashtags.
Absolut Custom DJ Station
toronto . london . las vegas . los angeles